Year 13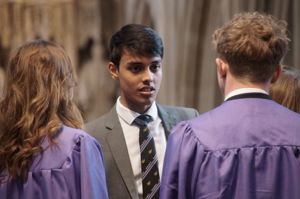 Year 13 sees the school support each student through both the completion of their A-Level courses and through the completion of the UCAS process.
Study becomes increasingly independent in Year 13 as students generally (although not always) focus only on three subjects to complete to A-Level. The start of the year sees students completing and submitting their UCAS applications with the careful support and personalised advice of their referee. Typically, around half of the year group will be applying either for a medical course or to Oxford or Cambridge, and will therefore have to complete their UCAS application by the earlier deadline of October. A well-developed extra-curricular programme of support for admissions test preparation and interview practice is on offer to ensure that our students stand the best possible chance of success in reaching their first choice university.
Students remain in the tutor groups which they have had since Year 12, enabling the depth and quality of the working relationship between staff and students to develop more fully. Their Head of Year and Assistant Head of Year will also remain with them for both of their years in the Sixth Form, again working with the Director of Sixth Form to ensure continuity of experience and consistency of support.
There is a dedicated mentoring day at the start of Year 13 to ensure that tutors are aware of how the UCAS process has progressed over the summer for each student and that tutors are immediately aware of any emerging needs.
A varied lecture programme covering an eclectic range of significant topics (including ethics, culture, finance and the law) runs throughout Year 13 and many students also choose to refine their independent study skills further by taking the Extended Project Qualification (EPQ). The EPQ is an excellent opportunity for students to select and research a topic area which complements their university aspirations, adding in an extra layer of support during the admissions process and offering students a clearer taste of what study is like at university.
It is the Sixth Form Pastoral Team's mission to ensure that by the time they leave school all students are happy, successful and confident young adults who can articulate and realise their aspirations - academic and professional - in their life beyond the school and who know that they will always remain a part of our Olavian community.