School Libraries
The school houses two separate libraries within its grounds. The Main Library is located on the first floor above the staff room and the Sixth Form Library is located directly opposite the ADT block, adjacent to the music rooms and within close proximity to the Sixth Form Common Room.
It is currently managed by Mrs Anna Martine, Librarian and Learning Resource Manager along with a dedicated team of parent and student volunteers.
Each library stocks a wide selection of resources for each year group and at last count our resources totalled in excess of 11,000 books.
---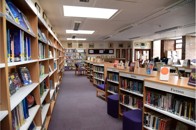 The Main Library is open daily from 10.40 to 11.00 am and 12.40 to 13.40 pm.
The Main Library caters for students in Years 7 to 11 and is open at break and lunchtimes.
It houses a vast array of text and academic books to meet the curriculum requirements of the students and the school. There is also a wide range of fiction books to include classic literature and contemporary and popular authors. The Library also holds Old Olavian archives and memorabilia.
The Main Library stocks daily copies of The Times and The Guardian as well as magazines, journals and periodicals both past and present to peruse through if you wish as well as access to Chessboards and pieces. There are computers and a printer for the students to use for homework or research and a quiet zone for study.
The Library also regularly celebrates book related events and awards such as World Book Day, National Poetry Day and The CILIP Carnegie Medal through various events, activities and displays.
Access to the library system is available via the Students/Staff 'quicklinks' dropdown menu on the front page of this website and via following link:
The Main School Library is a well utilised, diverse, area enjoyed by students from both the lower and middle years.
Years 7 - 11 student can:
Take out THREE books at one time.
Renew those books TWICE.
Have books for 28 days.
Yr 7 onwards - Suggested Reading List
Yr 9 Onwards - Suggested Reading List
Yr 11 onwards - Suggested Reading List
---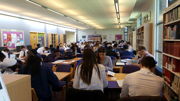 The Sixth Form Library is open daily from 8.30am to 4pm
This library is used by Years 12 to 13 primarily as an area for quiet study. It caters for a wide variety of 'A' level subjects and is geared towards preparing the students towards their next step of learning and higher education.
The Sixth Form Library contains a vast collection of academic material including text and reference books, journals and periodicals in order to support the academic requirements of various 'A' level studies. Sixth Formers have access to computers, a black and white printer and photocopying facilities, all located within easy reach of their study area.
The Sixth Form Library also provides information regarding careers and university prospectuses to assist our students making their university choices. St Olave's has a consistent reputation for applications to both Oxbridge and Russell Group universities each year. This is supported within the library by stocking a selection of relevant university guides and suitable material to include books on the Oxbridge recommended reading lists.
The Sixth Form offers a wide range of literature, classic fiction, contemporary authors and receives a daily copy of both The Times and The Guardian newspapers.
It is a diverse, well utilised, calm and quiet space for our students to work, study, read and/or research.
Years 12 & 13 students can:
Take out SIX books at one time.
Renew those books FOUR TIMES.
You can have books for 28 days.
---
All books can be renewed by EITHER:
Filling out a LIBRARY FORM (found on the library desk)
By emailing the Librarian (see below)
Please email the Librarian if you have any queries regarding any aspect of the libraries at