Wellbeing Room
Welcome to our newly created Wellbeing Room - a place where students can tend to their social and emotional needs.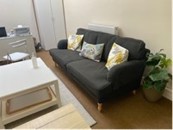 We have created a safe and calm environment where Mrs Ward, our Pastoral Support Worker, is available throughout the day and students will be made to feel welcome and listened to.
Students can visit the Wellbeing Room if they need to talk with someone, feel they are struggling academically or socially, or just need a quiet space to sit and reflect.
Our aim is to identify barriers that students' face which are preventing them from reaching their full potential. This includes:
helping boost their confidence and self-esteem by acknowledging their achievements and recognising their strengths;
assisting students in developing their knowledge, skills, understanding, capabilities and attributes which they need for their social, emotional, mental and physical wellbeing; and
showing understanding and treating students individually, promoting positivity, respect and trust.

We acknowledge that students' wellbeing is fundamental to their overall health and success and believe this will be a valuable addition to our Pastoral Care at school.