Voluntary Donations
Donations to St. Olave's School Voluntary Fund are used to support the provision of a wide range of curricular and co-curricular activities at the school and relieve the impact of overstretched government funding.
Parents/Carers wishing to make donations to the St. Olave's Grammar School Voluntary Fund, can do so via the Charities Aid Foundation (CAF) or by setting up a Standing Order with your bank either directly via your Online banking/App, or you can fill in the Standing Order form below and return the original to the School Finance Office. We will forward the form to your bank on your behalf.
Please note we do require the original form as the bank will not accept scanned copies. If you do set up a Standing Order, please also complete the Gift Aid Declaration form (below) and return to the Finance Office financeoffice@saintolaves.net
Donating via Standing Order means the school receives 100% of your donation as we do not incur any processing or transaction fees.
Voluntary Fund Standing Order Form
---
Donating via CAF (Charities Aid Foundation).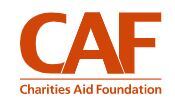 The CAF is a registered UK Charity that offers products and services under one roof, to help contributers plan their charitable giving and Gift Aid.
Set up a one-off or regular voluntary donation to St. Olave's Grammar School HERE
Information regarding the Charities Aid Foundation's role in processing donations is available: HERE
---
You can also contact the school directly, if you have any questions, on the above email address.
The conclusion of our Parent/Carers Survey in 2019 indicated that parents/carers were generally happy to contribute to the wide range of projects, activities, developments and opportunities the donations allow. Although there is no formal recommended amount, many parents/carers felt that £50 per month was an appropriate figure for them to donate. It is important that parents/carers understand that there is no obligation to make donations, and families should give only as much as they would like. Any amount is welcome, and no student will be treated differently should their family choose not to contribute.
Your support and generosity is hugely appreciated, and enables us to provide all our students with a great deal more than we would otherwise be able to offer. This includes numerous sporting and other co-curricular opportunities which help develop skills and characters beyond the classroom, as well as supporting academic achievement. It also allows us to invest in up-to-date resources, and the ongoing refurbishment of the learning environment. In May 2022 we completed the develop of a brand new All Weather Pitch allowing us to expand the range of curriculum and co-curricular sport including hockey, football, tennis and netball. We are also looking to refurbish the Scout Hut for community use.
All these projects have been made possible, thanks to the generosity of parental donations.
The School sends periodic updates to ensure that spending of the donations is shared with the parent body, and made completely transparent. Please note that donations are non-refundable.
Thank you for your generosity and continued support of St. Olave's Grammar School.
The following images provide a flavour of additional resources, equipment and refurbishments we have achieved thanks to the Voluntary Fund and also to our PA fundraising efforts.