Safeguarding & eSafety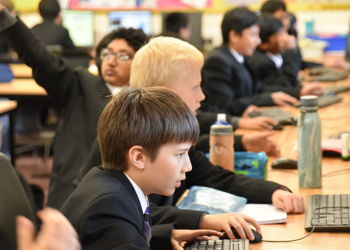 St. Olave's Grammar School follows clear safeguarding policies, which ensure the safety of all pupils within our care.
All staff and volunteers at the school are DBS checked and national Safer Recruitment regulations are strictly followed in appointing all staff. Health and Safety policies are in place and risk assessments are carried out rigorously, both with regard to events and activities within school and those carried out off-site.
Within the school, Mrs Maxwell is the Designated Safeguarding Lead and works with families, CAMHS and social services to ensure that our pupils are not at risk. All staff have been trained in child protection procedures and undergo regular refresher training. If for any reason Mrs Maxwell is unavailable, you will be directed to Mr R. Birtchnell, or Mrs A. Abbattista who are the Deputy Designated Safeguarding Leads.
The St. Olave's Safeguarding Team contact details are available here:
Guidance on reporting a Safeguarding concern out of School hours, is available below:
Safeguarding concerns - out of school hours
Mrs R. Maxwell
Designated Safeguarding Lead
---
Click here for policies relating to Safeguarding & Welfare
---
St. Olave's Student Safety Online - in collaboration with National Online Safety
Internet Safety - keeping your child safe online - Letter from Mrs Maxwell
---
Calls to Childline are free on: 0800 1111
Children can access free advice, information and activities, talk to someone for advice and support at any time by contacting Childline or chat to an online counsellor at www.childline.org.uk
Childline's website offers a plethora of guidance and support - click here
---
NSPCC - Dedicated Helpline for victims of abuse in Schools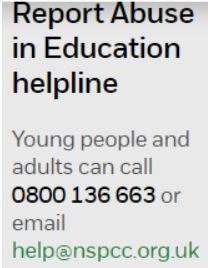 The NSPCC have launched a dedicated helpline for children and young people who have experienced sexual harassment or abuse at school, and for worried adults and professionals that need support and guidance.
Advice for parents of younger children: nspcc.org.uk/pants
Keeping children safe online:nspcc.org.uk/share-aware
---
Cyberbullying - Advice for parents and carers on cyberbullying - provides advice and information about how they can protect their child from cyberbullying and how to tackle it if it happens.
---
Zoom - What Parents need to know about "Zoom" the new video conferencing App
---
If you are worried about online sexual abuse or the way someone has been communicating with you online please report it to the National Crime Agency via:
https://www.ceop.police.uk/safety-centre/
---
WhatsApp have produced a guide for parents & carers regarding what they need to know about the platform to help safeguard their children from potential online risks including; the new age limit (16+), scam messages, connecting with strangers, location sharing and more.
Available here: https://twitter.com/natonlinesafety/status/1039846184360312833
---
Ineqe Safeguarding Group - an Online Safety Hub contains a plethora of helpful resources, and materials for parents and students.
---
The National Online Safety Team have created the following free guide to raise awareness about 'online grooming'. together with further information relating to safe use of the Internet:
Creating your National Online Safety Account
---
U Switch have created a free educational resource - "How to keep your child safe on their smartphone – the definitive guide" available here
---
HOUSEPARTY App - Social Media Risk - Please see safety information that parents and students should be aware of regarding the Houseparty App:
---
School Visitor Safeguarding Guide
---
The following link provides an explanation of online safety and slang terms often used:
Glossary of commonly used words relating to online safety
---