Environmental Society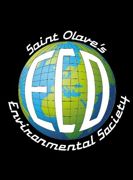 Recent years have seen outstanding success for environmental progress within St. Olave's, a testament to the widespread change that we can bring about when we unite behind a common cause. In 2016, the founding of Environmental Society saw the rekindling of the desire to take action within the school community.
The society became the steering group for the Eco-Schools programme at St. Olave's, the largest international network of students and teachers in the world, spanning 67 countries and involving over 19 million students.
St. Olave's had achieved the Eco-Schools Bronze Award in 2009 but it was only a decade later, in November 2019, that Environmental Society's commitment to ameliorating the school's impact on the local environment and th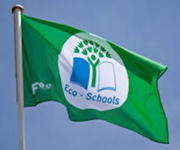 e wider world led to the achievement of the prestigious Green Flag Award.
After this achievement, we started 2020 with a spring in our step, with plans to purchase and sell reusable water bottles to students throughout the school, in an attempt to reduce our reliance on single-use plastics bought from the canteen. With money generously provided by Lucy Saunders' Jack Petchey Award, we ordered an initial shipment of bottles but unfortunately these plans, like so many others, disintegrated after school closed due to the lockdown. However, by working closely with Alston in the canteen before school closed, we managed to dramatically reduce the amount of plastic being used in cold food, with the introduction of dishwashable pasta pots, and more recyclable packaging.
On top of our Eco-Schools work, we have continued our cooperation with Year 10 and 11 Duke of Edinburgh volunteers in the Biology Garden, growing vegetables, composting food waste, and conserving the garden's biodiversity. The redevelopment of the Scout Hut offers another opportunity to improve the school's environment, with potential for the creation of a wildflower meadow behind where last year's tree saplings are now flourishing.
Please select the following 'Achievements and Plans' link to discover more about us, our current campaigns and project work, campaigns and what we have already achieved, our plans for the future and how to get involved:
All this comes as a result of the tremendous amount of hard work, dedication, and time contributed by many people from across the school community, including students of all years, teaching and support staff, governors, and parents, to whom we all owe an immense debt of gratitude, but particularly Miss Benham, the staff Eco-Coordinator.
Individually, we can make a difference. Together, we are unstoppable.
Joshua Selfridge (Year 13) and Rohan Selva-Radov (Year 11), Student Co-Leads and Teodor Wator (Year 11) Deputy Lead.