Entrance Test Information
We have taken the decision to delay the Year 7 entrance test.
We hope this will benefit candidates as they will have the opportunity to settle back into school before the SET takes place. In addition to this, we are concerned about the loss of curriculum time due to the COVID-19 pandemic, which would inevitably have impacted candidate preparations and resulted increased levels of anxiety.
For this year only the SET will run on dates given below, this is to allow smaller cohorts in each session and candidates to be socially distanced to ensure the safety.
SET test - Thursday 26 November
SET test - Friday 27 November
Candidates will be invited to one of the dates given above. Dates and timings will be sent out to you during the Autumn term. Please note that we are unable to accept requests for specific days and times for the SET due to the high volume of applications received.
Please be aware that for this year only we will be unable to provide an indication of performance prior to the deadline for the online application form via your Local Authority at the end of October. Therefore, please ensure that you carefully complete your son's online form listing the schools you want in order of parental preference as these cannot be changed once submitted to your Local Authority. For your information, if you choose to list us and are unsuccessful in proceeding to our Stage 2 test you will not be eligible for the offer of a place at St. Olave's Grammar School however, this will not affect any consideration for places at other schools listed as a lower preference on your form. For further information, please refer to your Local Authority.
The Stage 2 Entrance test ( for those invited back) will take place on Tuesday 5 January.
---
IMPORTANT INFORMATION REGARDING EXAM ARRANGEMENTS:
The SET will last one hour and will comprise multiple choice questions in English, Logic (both Verbal and Non-Verbal Reasoning) and Mathematics.
Answers to the SET questions must be entered in HB pencil on the Answer Sheet provided. Please refer to our website for sample questions for the SET and information regarding the completion of the Answer Sheet.
Please ensure that you follow the instructions below.
---
TRAVEL & PARKING:
Ideally you would use public transport or walk to St. Olave's Grammar School for the SET, however we appreciate that you may be reluctant to use public transport at the current time so we would urge you to research your journey to us in advance. There is plenty of parking (some free and some paid for) in local Orpington town centre (denoted by the blue and red dots on the map below). The Park Avenue entrance to the School is approximately a 15 minute walk from the top end of the High Street.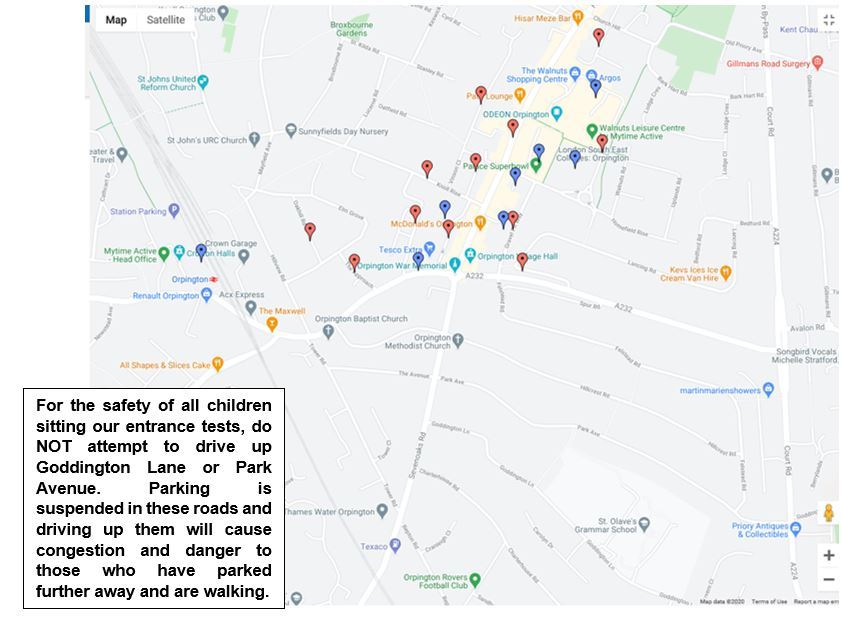 ---
ARRIVAL:
There will be NO ENTRY to the school via the Goddington Lane gates. Please do not attempt to enter the School from Goddington Lane or use the School's postcode if using a Sat Nav as you will be redirected by site staff to the access point in Park Avenue.
Access to the School will be via the Park Avenue pedestrian gates only. There will be no car parking available on the School grounds and no access for vehicles. If you are travelling by car, you are strongly advised to park well away from the School as there will be parking restrictions in Park Avenue and Goddington Lane and this area gets easily congested which could lead to delays in your son's arrival. When parking, we would ask you to be courteous to our neighbours, park responsibly and allow enough time to complete the remainder of your journey on foot. Please be aware that there will be traffic enforcement officers patrolling Park Avenue to assist with the flow of traffic.
There will be a queueing system according to colour group each side of the Park Avenue gates as follows:

We ask that you queue 2m away from the next people in the queue.
Please only have one adult accompanying each candidate. Please do not attend as a family group or have more than one adult dropping off or collecting a candidate.
Candidates must arrive no later than their allocated time as we cannot guarantee that late arrivals will be admitted to the SET. In addition, please try not to arrive any earlier than your allocated slot as this may cause congestion at certain "pinch points" throughout the day.
We would ask that all parents / carers and candidates maintain social distancing at all times and do not try to "push forwards" in a queue at any point. If you are in the queue to drop off for your son's exam, we will not commence the exam until all candidates from any queue are in the exam venues.
Your son will be asked to use the hand gel provided at the gates as he enters the school grounds.
Please ensure that your son is dressed appropriately for the weather conditions on the day of the SET as he may be asked to remain outside until his colour group is ready to proceed to its examination room.
---
WHAT TO BRING:
Please print out your candidate instructions and make sure your son has the front page showing colour group and candidate details with him. The candidate will need to bring 2 HB pencils and an eraser in a clear pencil case or clear bag. Mobile telephones, wristwatches, dictionaries, and calculators are not allowed in the Test.
As the SET only lasts for one hour, please do not send in any food with your son. Please only send him with a drink in a clear plastic bottle with the label removed.
Any medication must be placed in a clear plastic bag. If you have not already advised us of medication that will be brought on the day of the Test, please do so immediately.
Your son may wear a mask during the exam, but this is not compulsory. If sending a mask, please ensure it is a plain, block colour with no writing on it and of the type with loops to go around his ears.
If you have not already supplied details of any special educational needs and disabilities, known medical needs or other circumstances which may require positive action on the day of the Test, they must be emailed to admissions@saintolaves.net or delivered to the School without delay. Please also supply your son's Care Plan, if appropriate. Please see the website for our SEND arrangements.
If your son is unwell on the day of the Test, to such an extent that you feel his results will be affected, you should not let him sit the Test as no allowance can be made for under-performance. You must inform the School no later than the day of the Test, either by email or telephone (01689 820101). Please note that a doctor's certificate will be required to confirm illness as the reason for non-attendance at the SET. Subject to receiving appropriate documentary evidence, an alternative day will be offered.
If your son or a member of his immediate family are self-isolating due to Covid-19 on the day of the test, please alert the school immediately and provide documentary evidence from his primary school attendance officer or your place of work without delay. It is crucial that you do not bring your son to the school if either he or someone in his household is experiencing Covid-19 symptoms.
The main symptoms of coronavirus (COVID-19) are:
a high temperature – this means you feel hot to touch on your chest or back (you do not need to measure your temperature); a new, continuous cough – this means coughing a lot for more than an hour, or 3 or more coughing episodes in 24 hours (if you usually have a cough, it may be worse than usual); a loss or change to your sense of smell or taste – this means you've noticed you cannot smell or taste anything, or things smell or taste different to normal.
Parents/Carers will not be allowed to enter the school buildings for any reason, including to use toilet facilities. In the case of a genuine emergency, please speak to a member of staff outside. Please note that there are no facilities for parents/carers to wait while their son is taking the Test.
Due to the number of candidates and the complexity of the arrangements around this year's SET, we are unable to reallocate any child to a different exam group or session.
---
COLLECTION:
As part of the next testing session, there may be queues beginning to form either side of the Park Avenue gates. Please do not join these queues and instead make yourself known to staff at the gate who will direct you to your collection point.
Please collect your son promptly at the time given on his Candidate Instruction Sheet. You will be asked to use hand gel and please bring a mask which you must wear on the school site and you will then be guided to a designated area to wait until your son's group arrives at the 'Collection Point' at which point you will be called forward. For your own safety and the safety of others, we would ask you to observe social distancing at this time in order that others collecting their children at the same time do not feel compromised. We politely ask that you do not approach the Collection Point until you are instructed to as this will create social distancing difficulties.
The outcome of St. Olave's SET will be sent to parents/carers as soon as possible. We will advise you whether or not your son has achieved the required standard to proceed to our Stage 2 Entrance Test. Please note that this result will not equate to a guarantee of a selective place at St. Olave's.
Thank you in advance for your co-operation in helping to make the day run as smoothly as possible for all concerned.
---
Sample Questions
Stage 1 Entrance Test (SET) Sample Questions