School Catering
We are delighted to be working with our catering service partner The Pantry.

At the start of each academic year, NEW parents/carers are issued a unique registration code and security PIN, together with instructions to create their sQuid accounts. (sQuid is our online payment system used to pay for/top up their account for school meals as well as school trips/activities/events.)
Information regarding our sQuid Cashless payment system is available here
At The Pantry, we've always believed that a School Meals Service should be just as exciting, engaging and imaginative as anything you'd find on the High Street – so we've brought the very best elements of all your favourite eateries to St. Olave's Grammar School!
We serve up a selection of some of the most exciting concepts around, mixing the classic with the contemporary – including Yorkshire Pudding Wraps, Loaded Mac 'n' Cheese pots and Peri Peri Chicken. Every concept has it's own distinct service point, too, so long queues are a thing of the past – students pick out what they want, and pick it up!'

Recent updates
It's not just the food that's been given a much-needed overhaul either – our serveries have been given a spruce up, too! Resplendent in the School's eye-catching livery, the Main Restaurant has been renamed 'The Olavian Pantry' and given a modern and trendy visual update, whilst remaining in keeping with the School's ethos and traditions.
Meanwhile, the 6th Form Café has been renamed 'Café 1571', harkening back to the School's storied history, and is bedecked in the School's striking golden hue.
Itemised MENUS AND TARIFFS
The Pantry - Mid-Morning Break Menus
The Pantry - Lunch Break Menus
The Pantry - Free Fruit Fridays
The Pantry are always open to feedback. Comments or queries can be directed via email or via phone (8 am - 5 pm).
The Pantry - your feedback is invited
The Pantry - refunds/queries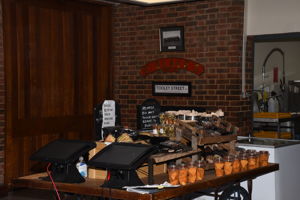 Should you have specific queries relating to your child's CATERING Purse, please contact The Pantry directly,via: stolaves@pantry.email
For information regarding The Pantry's refund procedure please email: office@thepantrycatering.co.uk with the subject 'Refunds' quoting, the Students Full Name, Form, Bank Account Holders Full Name, Sort Code, and Account Number.
Please allow seven working days to apply the refund via BACS.
The Pantry - special dietary needs
The Pantry's Nutritional Team are happy to accommodate any special dietary requests, so if you require any further information on their meals, or an adjustment to be made, simply complete their Special Request Form:
https://www.thepantrycatering.co.uk/school_meals/forms/special-dietry-requirements.php or contact us on nutrition@thepantrycatering.co.uk.
Free School Meals - Information to be published shortly