Sports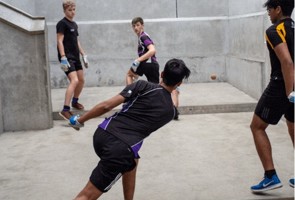 St. Olave's offers a plethora of opportunities to try engage in different sporting activities at school, with clubs run at lunchtime and after school alongside the standard curriculum.These clubs are run by members of the PE department, external specialists and Sports prefects.
The school also competes in a full programme of fixtures across the academic year and across a range of sports. Upcoming fixtures and previous results are posted on the SOCS Sports Website.
Please see our menus to the left for full details from the Sports Department.
---
You are also encouraged to follow the School on Twitter:
@saintolaves, @stolavessport and @saintolavesRUGBY1 and the Sports' Department's new Instagram account: https://instagram.com/stolavessport?igshid=8mmx9xyl9khw which are used to circulate the most up-to-date information in the event that matches need to be rearranged or cancelled. Changes to the scheduled programme are posted at the earliest opportunity (sometimes this is not possible until the morning of the fixture).
The department is always keen to extend the offering further. If any student has a strong preference for a sport not listed then they are encouraged to contact Mr A. Kenward (Director of Sport).
---
Sports activities and Clubs
The School offers a wide range of sporting activities and clubs. To find out more, please either select the following link, see our menus to the left or talk to a member of the PE Department for further details.