Clubs and Societies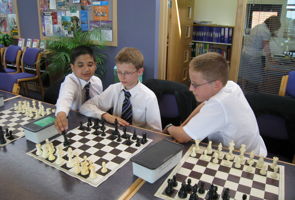 A wide variety of co-curricular activities are available for students to build on existing talents whilst developing new skills and interest here at St. Olave's with the vast range of opportunities, often jointly led by senior students that take place during the school week, on weekends and during school holiday periods.
Our planned programme for Autumn Term 2021 is outlined below. This will be adjusted as appropriate following Covid 19 guidance published by DfE which we will continue to monitor.
Clubs and Societies - Autumn Term 2021
There are regular school concerts and drama productions, individual tuition is available on a wide range of instruments as well as a wide range of orchestras, ensembles, bands and choirs.
Breaktime and lunchtime activities include music rehearsals, sports activities and subject based clubs and societies. After school and on weekends you will find sports activities, curriculum study groups, and debating taking place throughout the school. are regular school concerts and drama productions.
There are also numerous subject-based clubs and societies, as well as popular debating, Duke of Edinburgh Award Schemes and language clubs. The school's 'Le Chavetois Society' has raised money and carried out voluntary work in the local community since the First World War.
A large number of trips and visits are organised on a regular basis, including Art gallery visits, geography field trips, regular rugby tours both home and abroad and modern language trips throughout Europe.
Each year, as part of the extra-curricular programme, you may have the opportunity to undertake a variety of overseas tours and expeditions. All who join St. Olave's are expected and encouraged to play a full part in this rich school life.
---