Lateral Flow Testing
People who have COVID-19 can spread the virus without knowing. This is because they have no symptoms. To reduce the spread of the virus, we need to identify those individuals. This can be assisted by students and staff, carrying out Lateral Flow Tests tests at home twice every week, 3-4 days apart (including during half terms/School holidays etc).
Lateral Flow Testing - Update letter - January 2022
Lateral Flow Tests at home
Kits have been made available for all students and staff, enabling them to perform and report a Lateral Flow Test twice a week at home.
We would like students to take their tests before school on Mondays and Thursdays. Tests are free of charge. Students will receive two packs of 3 tests in a box with a leaflet on how to take the test and report the results. Preferably this would be in the morning before coming into school. However, we understand that for some people this may be challenging. Therefore, tests can be taken the evening before school if needed.
Should you need to obtain additional supplies of the free Lateral Flow Tests, the Government website has a search function to help you with this, they can be ordered online or collected from local pharmacies:
Find a local pick up point to collect Rapid Flow Test kits
Order Rapid Flow Test kits online
If necessary, PCR tests can be booked using this link
---
Taking a Lateral Flow Test
There is a useful video to show you how to take the test: https://www.youtube.com/watch?v=S9XR8RZxKNo There is no need to keep used test equipment after the test result has been reported. You can put it in your normal bin (household waste). This does not replace symptomatic testing. If you have symptoms, you should self- isolate immediately, book a PCR test and follow national guidelines. (see further details below).
No test is required for four days after receiving a 1st or 2nd dose of vaccination.
---
Reporting Lateral Flow Test results
Olavians need to report each test result to both the: 'NHS Test and Trace' and to school.
What should you do after the test?
If anyone tests positive, they must self-isolate immediately and observe the following Government guidance: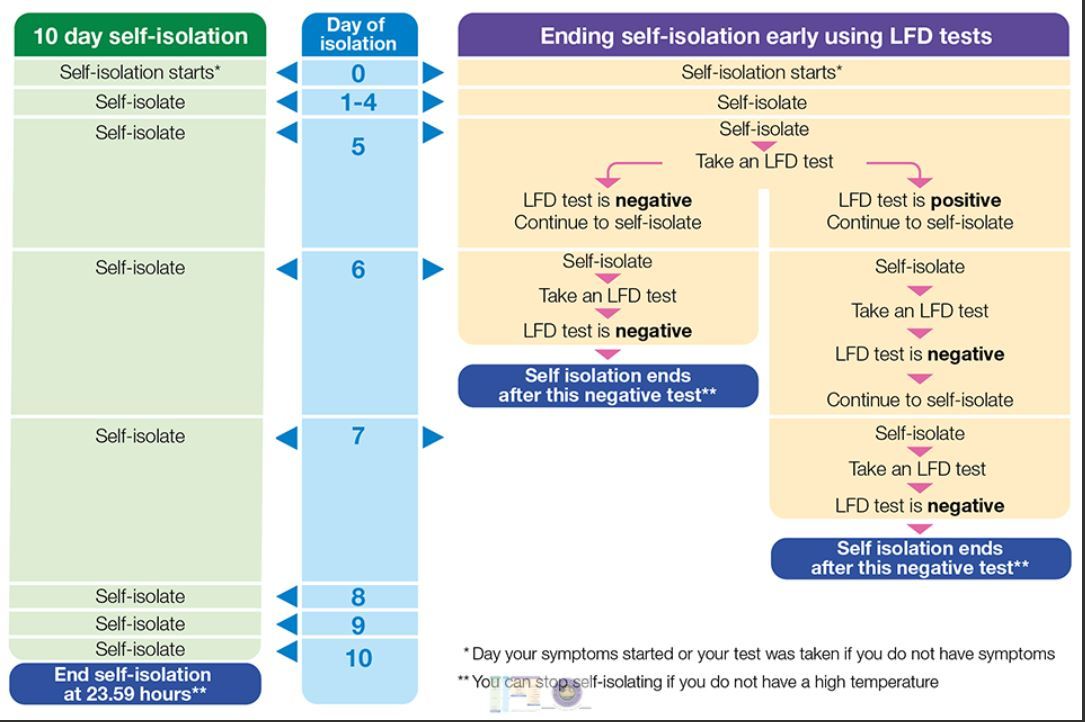 If your Lateral Flow Test is positive you should order a confirmatory PCR test immediately.
If the result of the Lateral Flow Test is unclear (void) you should do another test. Negative and void results should be reported to both NHS Test & Trace as well as school. A negative Lateral Flow Test result does not guarantee that you are not carrying the virus. So, you should continue to follow social distancing, and other measures to reduce transmission including wearing a face mask and regularly washing your hands and observing social distancing.
---
Why take part ?
Taking part in testing is voluntary and all students will be able to attend school whether they take part in testing or not. Testing at home will allow your child and other students to attend school as safely as possible.
Please contact rmaxwe@saintolaves.net if
you have any questions or concerns about home testing.
you have not as yet given consent but now wish your child to be involved with home testing
---
The following Privacy Notice, relates to how the data we collect will be processed.
---
Vaccination of children aged 12 to 15 (Oct 2021)
The Secretary of State for Education and the Secretary of State for Health and Social Care have written a joint letter to parents about the vaccination of children aged 12 to 15 and the importance of continuing with twice-weekly COVID-19 testing and reporting. The letter provides information on COVID-19 testing and advises that, in response to potential outbreaks, local health teams may advise additional testing and isolation protocols at your school or college.
For example, if a student or pupil is identified as a close contact by NHS Test and Trace, they may be asked to take daily lateral flow device (LFD) tests, while they wait for their PCR test result. In this scenario, they should continue to attend school or college as long as their LFD test results remain negative.
Alongside the letter are some frequently answered questions for parents, from Dr Mary Ramsay, Head of Immunisation.
Thank you for your support.