sQuid: Cashless Payment
cashless payments for food, trips, resources & events
The School operates an entirely online, cashless payment system called sQuid.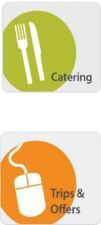 All accounts contain TWO electronic 'purses'.
1. CATERING PURSE: to top up payments for student catering at School,
2. TRIPS & EVENTS PURSE: to pay for school trips / competitions / textbooks / events / revision guides / contributions to charitable events / learning resources and all other payments.
---
Parents'/Carers' are asked to set up a sQuid account when they join the school via an email generated from no-reply@squidcard.com
If you cannot see this email, please check your spam/junk mailbox and add it to your safe sender list.
---
The following guides will assist in most apscts of using sQuid:
Already have a sQuid account from another school?
Simply add your child's sQuid registration number and security code to your account on the 'Users' page.
Once you have created and activated your account, you will be able to access and manage your sQuid account online at anytime to:
Top up your account from your bank account, credit or debit card
Check your account balance
View your transactions
Update your details
Add further children to your account
---
General information regarding sQuid
Please refer to the sQuid web site for their full Terms and Conditions.
If you experience any general difficulties with the workings of a sQuid account please contact sQuid via:
http://www.squidportal.squidcard.com
Should none of the above assist, please contact the School's Finance Department via email at:financeoffice@saintolaves.net