Catering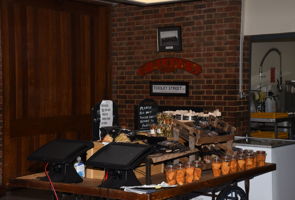 School catering services at St. Olave's are provided by Independent Catering Limited, which has its headquarters in Sevenoaks, provide catering to around 50 schools and colleges predominantly across Kent.
Independent Catering emphasises the importance of focusing on nutritious fresh food as well as working as far as possible with local suppliers, with most ingredients and products being delivered fresh each day rather than at weekly intervals. However, the company is also conscious of ensuring that parents and pupils are offered good value and that food is provided at competitive prices.
Further information about Independent Catering, the company's philosophy and menus can be found their website and below
Independent Catering - Current menu
School Catering - Payment
The School operates an entirely cashless operation. All pupils are issued with personalised fobs containing an electronic purse used to pay for food at the School. Parents'/Carers' set up a sQuid account with a catering purse to operate on their son's or daughter's payment fob.
To add funds/top-up your child's catering purse, please access the online portal via the Parent/Carer quicklinks (top left corner on the front page of this website) or via:
To check if your child is eligible for free school meals, please select the following link:
Is my child eligible for Free School Meals?
Independent Catering Tariffs 2020
General information regarding sQuid
Information is available via the following links:
Help with sQuid
In the unlikely event that you encounter any difficulties with sQuid there are points of contact identified on their website.
If you experience any general difficulties with the workings of a sQuid account please contact sQuid via:
http://www.squidcard.com/contact.aspIf you have any specific difficulties with the operation of your individual account, the quickest and most secure method of seeking help is to email or phone Independent Catering directly:
Email: Customer Services info@independentcatering.co.uk