Covid - 19 Information
People who have COVID-19 can spread the virus without knowing. This is because they have no symptoms. To reduce the spread of the virus, the Government has updated and published the following guidelines (April 2022)
What to do if you have coronavirus (COVID-19) or symptoms of COVID-19
What to do if you've been in close contact with someone with coronavirus (COVID-19)
Living safely with respiratory infections, including COVID-19
St. Olave's Grammar School: Covid-19
Risk Assessment & ManagementCovid 19 - Update letter - February 2022Lateral Flow Tests
Lateral Flow Tests are no longer freely available to everyone. However, if you are eligible, the Government has published the following guidelines on how to obtain free Lateral Flow Tests and report positive results:
Changes to testing for Covid-19
Ordering Free Lateral Flow Tests from the NHS - for those eligible
Reporting a positive NHS lateral Flow Test - for those eligible
Purchasing non-NHS Lateral Flow Tests
If you are NOT eligible for a free NHS test but still want to get tested, you will need to pay for a COVID-19 test yourself.
COVID-19 tests can be purchased from pharmacies and retailers, in person or online.
Please check individual test kit instructions to see how you report your results (and do not try to report via the NHS route).
---
Taking a Lateral Flow Test
There is a useful video to show you how to take a test: https://www.youtube.com/watch?v=S9XR8RZxKNo There is no need to keep used test equipment after the test result has been reported. You can put it in your normal bin (household waste). This does not replace symptomatic testing. If you have symptoms, you should self- isolate immediately, book a PCR test and follow national guidelines. (see further details below).
No test is required for four days after receiving a 1st or 2nd dose of vaccination.
---
Reporting Free NHS Lateral Flow Test results - for those eligible
Eligible Olavians can report a Lateral Flow Test result to both the: 'NHS Test and Trace' and to school.
What should you do if I test positive?
If anyone tests positive, they must self-isolate immediately and observe the following Government guidance: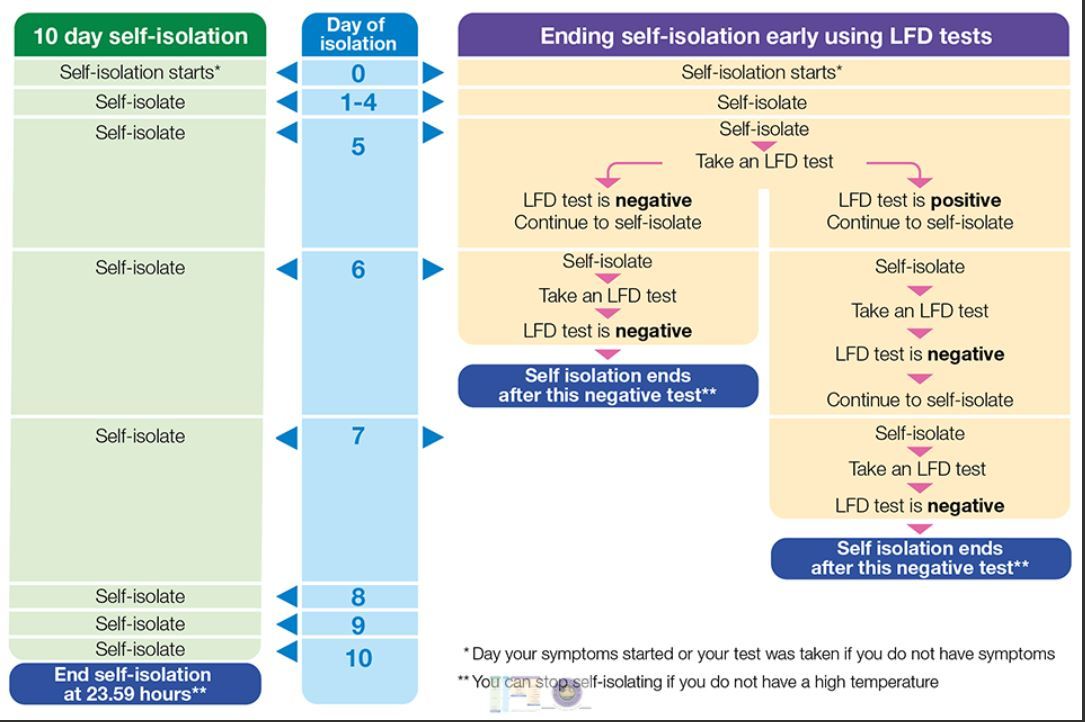 If the result of the Lateral Flow Test is unclear (void) you should do another test. Negative and void results should be reported to both NHS Test & Trace as well as school. A negative Lateral Flow Test result does not guarantee that you are not carrying the virus. So, you should continue to follow social distancing, and other measures to reduce transmission including wearing a face mask and regularly washing your hands and observing social distancing.
---
Why use Lateral Flow tests?
Lateral Flow Tests allow your child and other students to attend school as safely as possible.
Please contact rmaxwe@saintolaves.net if:
you have any questions or concerns about home testing.
you have not as yet given consent but now wish your child to be involved with home testing
---
The following Privacy Notice, relates to how the data we collect will be processed.
---
Vaccination of children aged 12 to 15
Covid - 19 Vaccination for children aged 12 to 15 - March 2022