Duke of Edinburgh Gold Award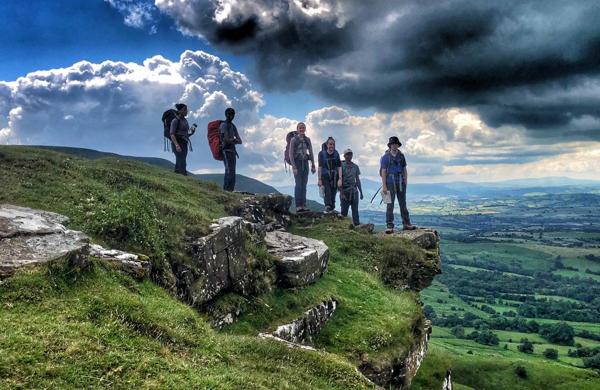 21 Jul 2021
Well done to our Sixth Form students who completed their 5 day, Gold DofE Award practice expedition last week.
Gold Award is always the toughest expedition, and rightly so. The practice is a 5 day adventure in the Black mountains, South Wales, either going up or coming down a mountain, with full back packing kit over a 8 or more hours a day in whatever the weather Wales can throw at them. On this occasion we had torrential rain on day 1 whilst setting in the evening and then wall to wall sunshine there on which brings its own issues of staying hydrated and avoiding sun related problems and biting insects.
During the practice teams spend 1 complete day with the instructors from Wild Country Consultants (W.C.C) Day 1 starts with a complete kit and food check ensuring they have the correct clothes and the right amount of food for what is a very physical experience. W.C.C also cover the cooking, set up of tents re-enforcing and enforcing excellent camp craft skills they have been given over previous awards. Once covered they are up and out going back over their navigation craft and into the hills for a shortish day. The day is finished off with route planning for day 2.
Day 2 has less contact with the instructors where they are meet at check points and watched from both near and far. By Day 5 they are met at check points only at the specified times. Each day ends with a debrief.
On top of all this the staff teams roam the mountains watching and seeing what the students are up to and then swoop down in the evenings to ensure all is well. Gold is all about team and self reliance.
The week is ended by a team debrief and a long and smelly trip home in a lot more comfort than they had had all week.
Again I would like to thank the staff who help to make these things possible; Mrs Andrews, Dr Carpenter, Mr Haynes, Mr Jewson and Mrs Rogers in finance.
We wish them all luck for the Qualifying expedition, which they are aiming to complete in August.