Science Outreach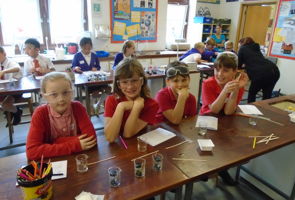 The Science Department at St. Olave's delights in enthusing students of all ages and offers several activities throughout the school year to promote greater understanding and interest from students studying KS2 Science.
There are outreach days in the Spring term in which Science teachers, accompanied by Year 12 students and a vast array of practical equipment, visit a local primary school. Three groups visit over three days, teaching Biology, Chemistry and Physics lessons to primary school classes. The expertise of Year 12 volunteers also enables primary classes to undertake practical work with support from Year 12 students. Primary pupils greatly enjoy the opportunity to become involved in these hands-on sessions, finding carrying out practical work thrilling. Year 12 students are fantastic role-models for primary pupils and often end up answering a range of enthusiastic questions from primary pupils.
In the summer term students from many primary schools visit the Maths and Science departments at St. Olave's. Year 12 volunteers again prove indispensable as they lead primary pupils in making rockets, carrying out a chromatography investigation and learning about the development of a chicken embryo. Year 5 pupils greatly enjoy the experience of being in a 'real' Science lab and primary teachers comment on the wealth of knowledge acquired by primary pupils through these outreach days.